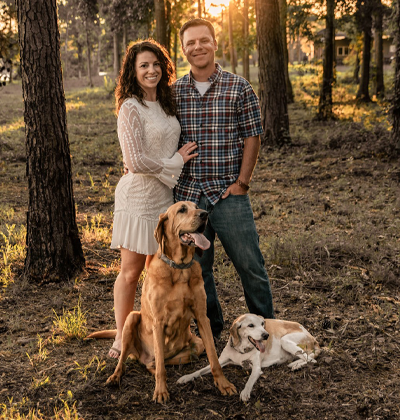 Janice is our Certified Veterinary Practice Manager and we are so grateful to have her lead our team! 
Raised in the Lowcountry, Janice has always wanted to work in the veterinary field and has done so since 2011. She earned her bachelor's from the College of Charleston in 2010 and followed that up with her Associate's Degree in Veterinary Science in 2017. She loves being hands-on and interacting with all of her patients and clients.
Janice and her husband, James, met over 17 years ago and have been married since 2012. They enjoy being outdoors with their dogs, fishing, hiking, camping, and anything athletic/competitive. She has recently developed a love for marathon running. They have plans to travel the world and cannot wait to start their adventures.
Janice's main goal is to make sure that everyone who walks into FAH (2- or 4-legged) feel welcome and at home. She treats every patient as if they were her own and prioritizes communication and compassion in every interaction.