Doctors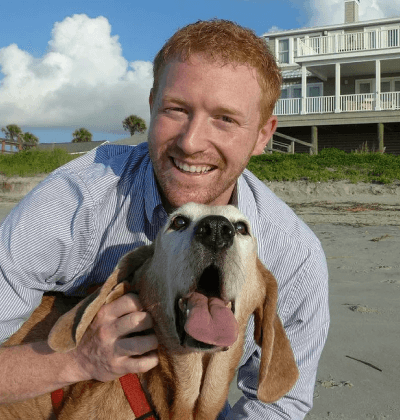 Dr. Jeffrey Davis
Dr. Davis was born and raised in mid-Missouri and graduated from the University of Missouri College of Veterinary Medicine in 2009. He stayed in Missouri for 2 years after graduation but knew his heart belonged in the South. In 2011, Dr. Davis moved to South Carolina and immediately knew he was going to be here forever. He spent 2011 through 2015  as an associate at Goose Creek Veterinary Clinic and in December 2015 joined the FAH family and has loved treating the amazing pets of Summerville.
Dr. Davis' interests include advanced dentistry, surgery, geriatric wellness, oncology, and personalized medicine. He believes that no two patients are the same and that good medical care is individualized, not protocolized. Dr. Davis is also proud to be a registered veterinarian for the Canine Lifetime Health Project.
Besides being a veterinarian, Dr. Davis also proudly serves in the United States Air National Guard as public health officer for the state of Missouri.
Dr. Davis resides in Charleston with his wife, Kerry, their daughter Moorea ("Mo") and their (very rotten) beagle, Bernard. In their free time, they enjoy trying new cuisine, traveling, and doing home improvement projects.
View Bio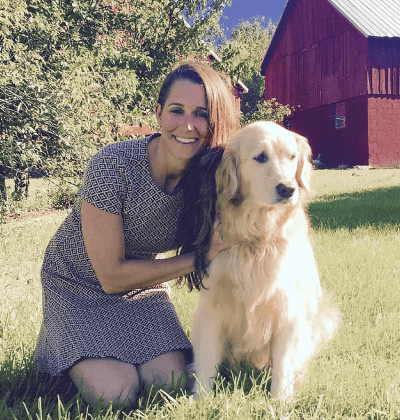 Dr. Kristen Pignatello
Dr. Kristen Pignatello grew up in southern New Jersey and later went on to receive her Bachelor's degree in equine pre-veterinary science from Otterbein University in Westerville, Ohio. She was an active member of the equestrian team and worked at a busy small animal practice during her four years of college. She is a graduate of Ross University School of Veterinary Medicine and just recently finished her clinical year at The Ohio State University. 
Dr. Pignatello is extremely excited to be joining Flowertown Animal Hospital and its amazing team. Her areas of interest include preventive medicine, internal medicine, and anesthesiology. Dr. Pignatello not only loves taking care of furry family members but also truly enjoys developing lasting relationships with her clients.
Dr. Pignatello, her fiancé AJ, and three dogs Tucker, Emma, and Ziggy are new to the Lowcountry and could not be more excited to call this their home.  In her spare time, she enjoys cooking, horse-back riding, and lounging on the beach with a good book. 
View Bio
Dr. Caroline Randinelli
Dr. Randinelli is a Charleston native and joined the FAH family in the fall of 2019. She obtained her bachelor's degree in Animal and Veterinary Science with a Pre-Veterinary concentration from Clemson University. She then went on to complete her Doctorate of Veterinary Medicine at the University of Florida.
After graduation, she practiced in south Florida but eventually decided to return home to the Lowcountry. Dr. Randinelli's special interests include surgery, oncology, dentistry, and geriatric and end-of-life care. Dr. Randinelli is very excited to join the Flowertown team to educate clients on the best care for their pets and strengthen the human-animal bond.
When not in the office, she enjoys running, reading, and taking her dog to the beach. 
View Bio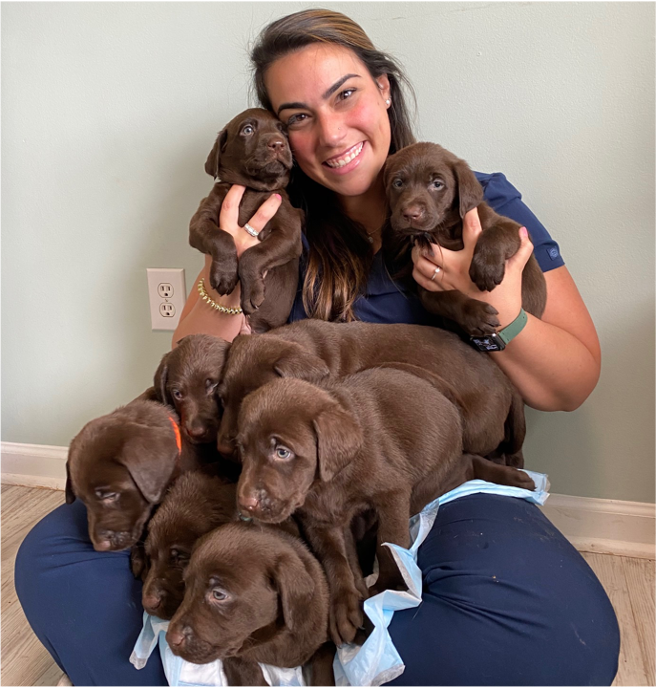 Dr. Rebecca Hawk
Dr. Rebecca Hawk grew up on Long Island, New York, and has traveled all over to obtain her veterinary training but is finally calling Charleston her home. Her Veterinary Technology degree was earned at SUNY Delhi and she completed her Bachelor's in Biology at Binghamton University. For veterinary schooling, she attended St. George University on the beautiful island of Grenada, West Indies. She completed her year of clinical training at University of Pennsylvania in Philadelphia, PA.
She then moved to Charlotte, NC where she completed an internship for small animal medicine focusing on general practice and emergency medicine. Her interests include soft tissue surgery, preventive medicine, diagnosis and management of feline and canine allergies and emergency medicine. Dr. Hawk is overjoyed to call Flowertown her home and build long-lasting relationships with her clients and patients.
In her spare time, Dr. Hawk loves to spend time on the beach, taking care of all of her plants, doing puzzles and crocheting on her porch as well as exploring all the wonders Charleston has to offer with her husband, Sam, and two adorable rescue dogs, Scarlett and Ellie.
View Bio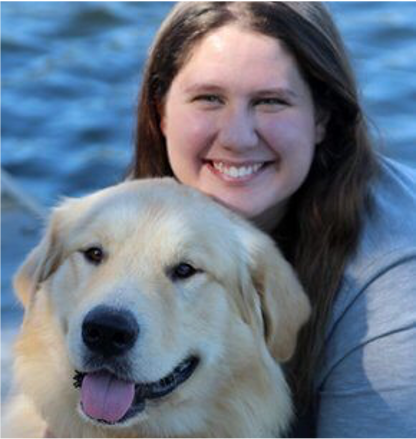 Dr. Magenta Kline
Dr. Magenta Kline grew up in Charleston and graduated from College of Charleston with a Bachelor's in Biology. After college, she worked at the Avian Conservation Center in Awendaw, working with raptors and shorebirds in the Avian Medical Clinic. She then was accepted and graduated from Ross University School of Veterinary Medicine and completed her clinical year at Louisiana State University. She completed her small animal rotating internship at Blue Pearl Veterinary Partners in Grand Rapids, Michigan in March 2021.
Dr. Kline's areas of interest include exotic medicine, neurology, internal medicine, geriatric medicine, and emergency medicine. She believes that veterinary medicine is a collaborative process between client, veterinarian, and patient.
Dr. Kline, her partner Tom, their goofy Golden Retriever, Ollie, and their three cats, Leia, Gatsby, and Roux are loving living in Charleston again. In her spare time, she enjoys singing classical music, baking, hiking, and enjoying the sunshine.
View Bio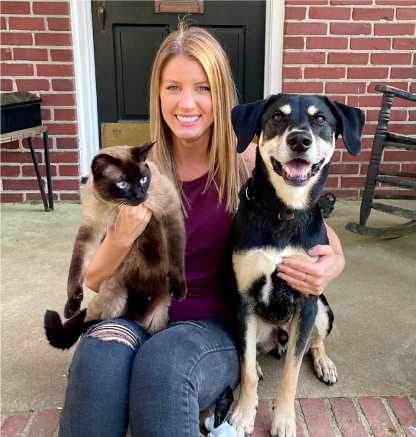 Dr. Tiffany Nawa
Dr. Tiffany Nawa was born and raised in the suburbs of Chicago, IL. She later went on to attend the University of Tennessee where she obtained a bachelor's degree in Animal Sciences with a pre-veterinary concentration and a minor in Biology. She then obtained her Doctorate of Veterinary Medicine at the University of Illinois.
After graduation she decided to trade in the winters for the beach and wound up in Charleston. She resides here with her dog, Kaner and two cats, Khloe and Quinn. In her free time, she enjoys going to the beach, traveling near and far, working out at OrangeTheory, walking her dog all around Charleston, cheering on the Chicago Blackhawks and Tennessee Vols, and DIY projects around the house.
Dr. Nawa has a special interest in soft tissue surgery, neurology, and emergency medicine. She believes client education is very important in veterinary medicine and can't wait to get to know the clients of Flowertown to help choose the best medicine for each of their pets.
View Bio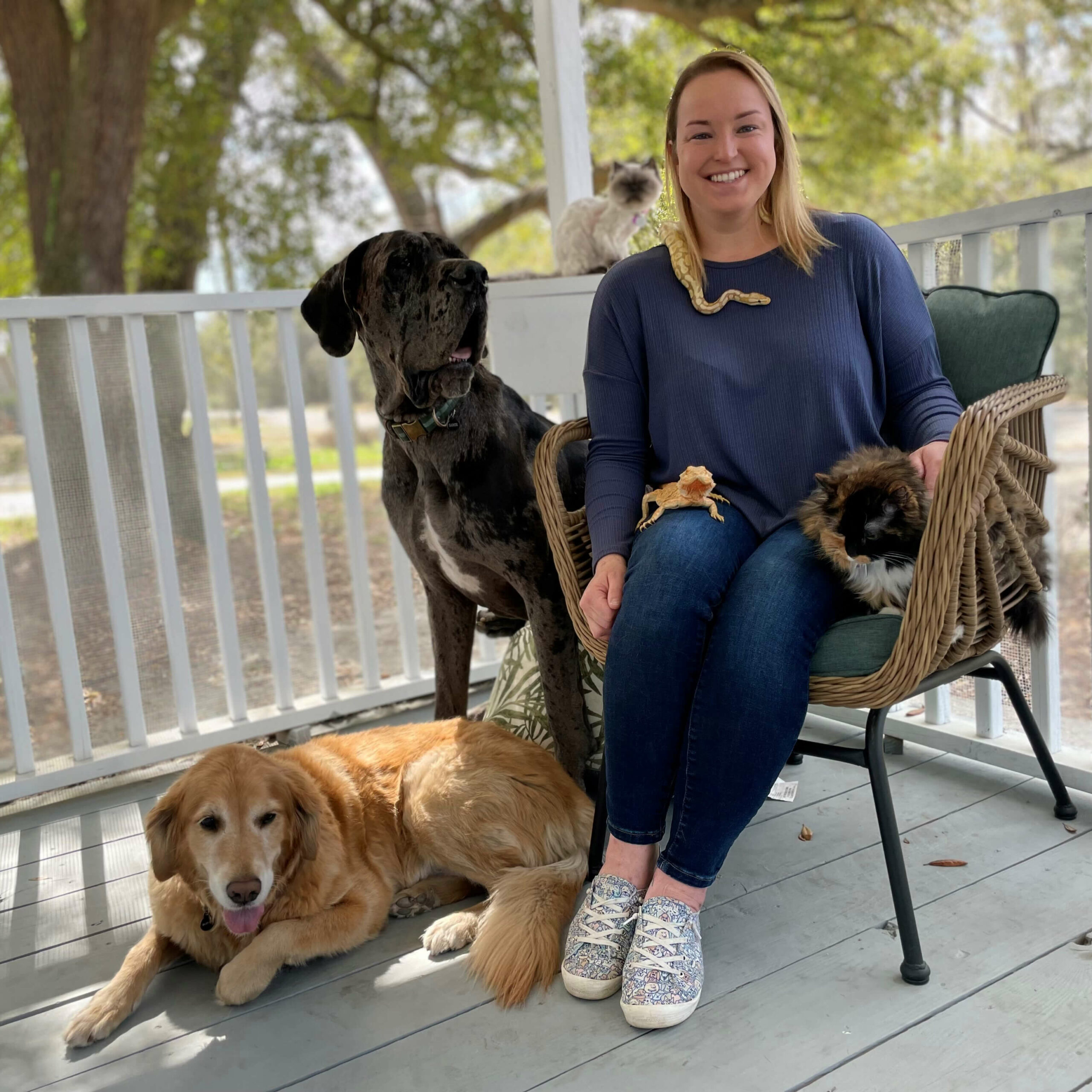 Dr. Kaitlin Guffey
Dr. Kaitlin Guffey is a Summerville native and attended the College of Charleston, where she earned her Bachelor's degree in Biology. In 2019, she graduated from Ross University School of Veterinary Medicine after completing her clinical training at Auburn University (War Eagle!). She returned home to the Lowcountry, where she practiced for two and a half years before joining the Flowertown Animal Hospital team.
Dr. Guffey has a particular interest in internal medicine, geriatric and end-of-life care, and exotic medicine and surgery. She values building strong relationships with clients and working with them as a team to give their pet the best possible life. She enjoys the unique variety that veterinary medicine offers, and is passionate about providing thorough and compassionate care to dogs and cats, as well as exotic pets.
Dr. Guffey currently lives in North Charleston with her loving animal family: Sarge (Great Dane), Penny (Golden Retriever), Fancy (Persian cat), Gypsy (Tortishell cat), Gina (Bearded Dragon), J.R. (Ball Python), and Melon (Pacman frog). When she is not spending time with her animals, she enjoys reading on her front porch, playing board games, and exploring local venues for trivia, bingo, and comedy nights
View Bio
Leadership Team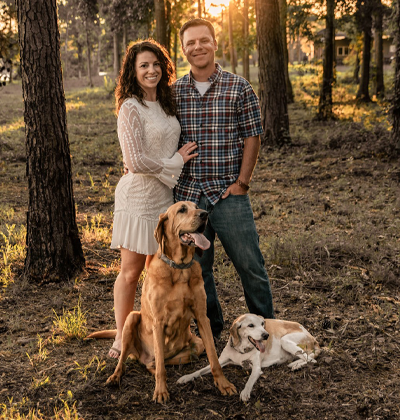 Janice, CVPM LVT
Practice Manager
Joined: April 2017
Hometown: Charleston, SC
Previous Studies: BS in Biology from College of Charleston, CVPM certification from Veterinary Hospital Manager's Association, LVT from Penn Foster College
Special Interests: Training, providing a positive experience for both clientele and patients. Outside of work=Running, figure skating, and reading
Pets at Home: The love of her life is her bloodhound, Dallas.
View Bio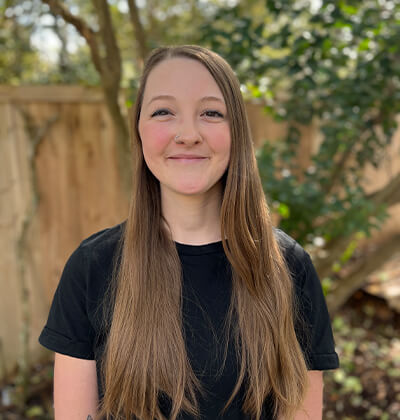 Aubrianna
Lead CSR
Joined: July 2022
Hometown: Indianapolis, IN
Previous Studies: Fear Free Certified, Associates in Business Management
Special Interests: Outdoorsy adventures, dog training and agility, gardening, artsy projects
Pets at home: 3 dogs (2 aussies and a staffie mix) as well as 2 cats (1 max and 1 DSH)
View Bio
Veterinary Technicians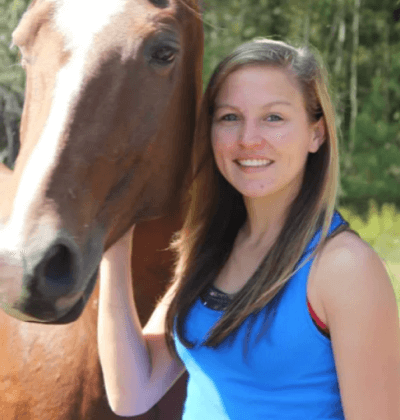 Kelsey
Joined: November 2017
Hometown: Charleston, SC
Previous Studies: BS in Biology from Francis Marion University
Special Interests: Hunting, fishing, spending time with my family and helping clients and patients
Pets at Home: A Chihuahua named Ryder and a horse named Turbo
View Bio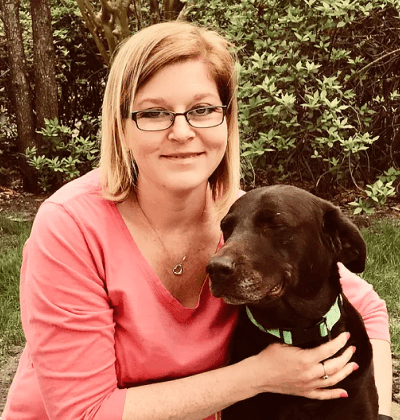 Sabrina
Joined: February 2018
Hometown: Charleston, SC
Special Interests: Gardening, Thrifting, and Crafting
Pets at Home: 2 labs named Boston and Walter, 4 cats named Lefty, Negra, Bruin, and Mikey, 2 foster fouls named Carl and Louise, one fish named Headbutt, and one snake named Carla.
View Bio
Sam
Joined: November 2018
Hometown: New Hampton, NH
Previous Studies: Equine studies at New Horizon College, Veterinary Technician at Penn Foster College
Special Interests: Veterinary dentistry and surgery. Outside of work-reading and hiking
Pets at Home: One dog named Zelda and 2 Geckos names Luna and Creature
View Bio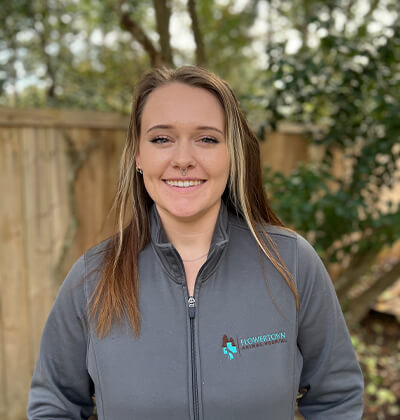 Jordan
Joined: August 2021
Hometown: Charleston, SC
Previous Studies: Biology at College of Charleston
Special Interests: Behavior, socialization, neonate kittens and leaving the biggest impact that I can
Pets at Home- 3 Domestic Long Hair cats named Aslan, Alley and Pixie
View Bio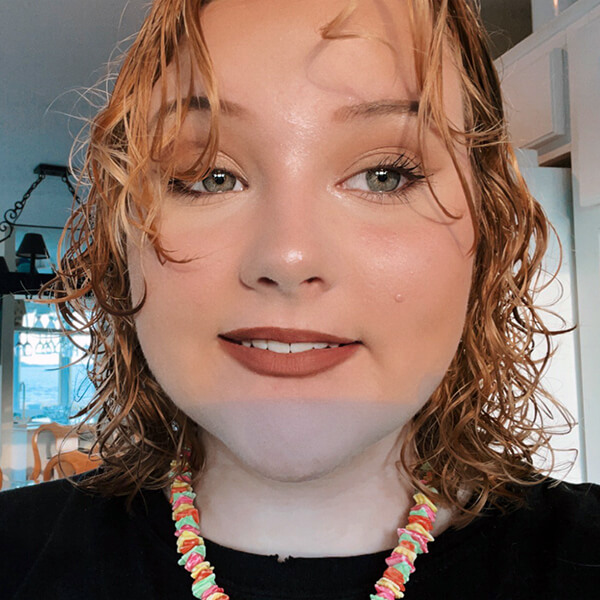 Avery
Joined: May 2021
Hometown: St. George, SC
Previous Studies: Currently in school for her Veterinary Assistant Certification
Special Interests: History, zoology, cosmetology and design
Pets at Home: 3 cats named Lucifer, Roady and Wiley and 24 dogs named Vinnie, Precious, Mouth, Mocha, Zoe, Betty Boop, Pinkey, Peper, Bonelly, Big Mike, You, Milkshake, Sally, Ugly Moo Moo, T-rex, Blister and Max.
View Bio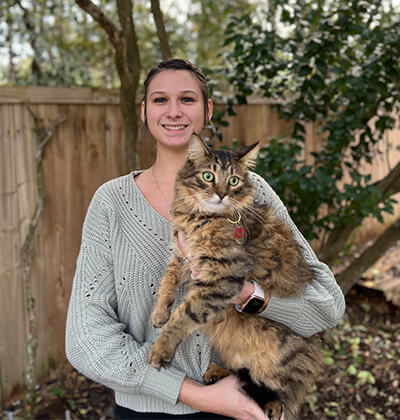 Trinity
Joined: May 2022
Hometown: Charleston, SC
Previous Studies: Associates in Veterinary Science
Special Interests: reading, trail walks with her dogs and cat, swimming
Pets at home: Jasper an Australian Shepard mix, Isabella a black lab, and Prince Vageta the DMH cat
View Bio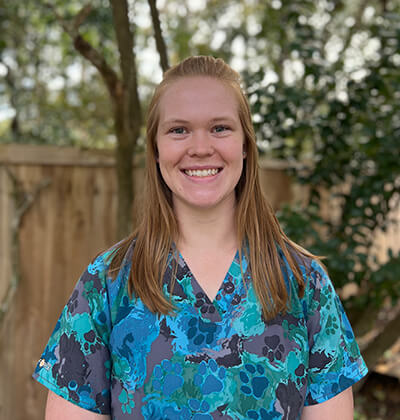 Kelsie
Joined: April 2022
Hometown: Seattle, WA
Previous Studies: Bachelors in Veterinary Science from the University of Arizona
Special Interests: gardening, real estate, woodworking and road trips
Pets at home: Shepherd mix named Nova
View Bio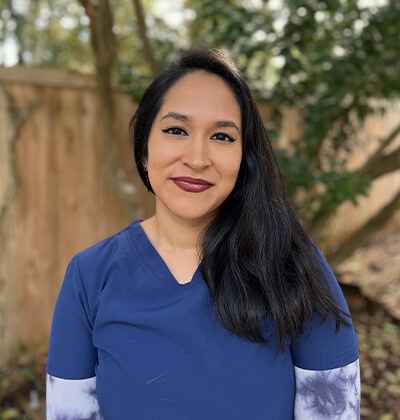 Sami
Joined: March 2022
Hometown: Huntington, NY
Previous Studies: Certified Veterinary Assistant
Special Interests: powerlifting, archery, reading and learning new activities
Pets at home: A shepherd/pit/lab mix named Nyssa.
View Bio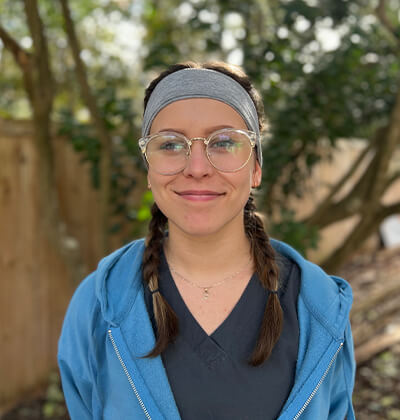 Kaylee
Joined: December 2022
Hometown: Charleston, SC
Previous Studies: Veterinary Technology TTC
Special Interests: Reading, cooking, homesteading
Pets at Home: June (DSH, Calico, 2 years old), Belle (DSH, Calico, 6 years old)
View Bio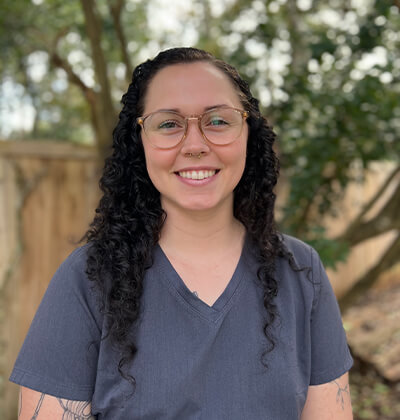 Courtney
Joined: December 2022
Hometown: Summerville, SC
Previous Studies: Currently getting Associates in Science
Special Interests: Plants, reading, painting
Pets at Home: Milo – Pitbull, Beans – cat, Mango – Calico, Axle – Lab
View Bio
Client Service Representative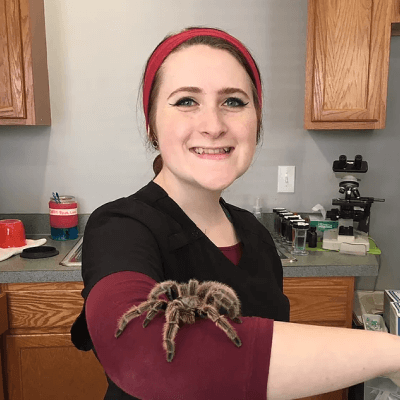 Aleyah K
Joined: Sept 2018
Special Interests: Going to the beach, traveling and attending concerts
Pets at Home: 2 rats, a guinea pig, 2 cats and one dog
View Bio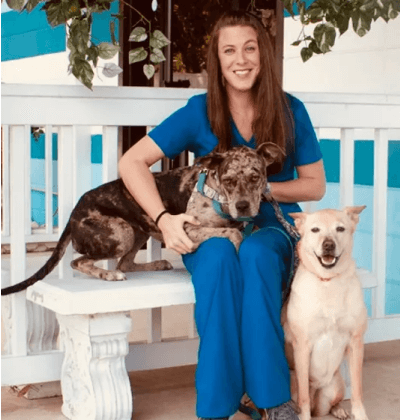 Sarah
Joined: June 2018
Hometown: Summerville, SC
Previous Studies: Marine Biology
Special Interests: Soft tissue surgery, providing rehabilitation, and extended care of geriatric patients. Outside of work spending time with family and watching football!
Pets at Home: 2 Pitbull Mixes named Lucy and Beaux, a Beagle Mix named Cora Bay and a Bearded Dragon named Beardy
View Bio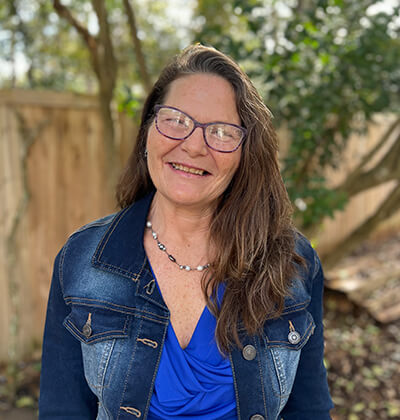 Dawn
Joined: May 2021
Hometown: Charlotte, NC
Previous Studies: French, International Business and Marketing
Special Interests: Paddle boarding, anything outdoors and everything with animals, small and large
Pets at Home: 2 cats named LuLu and BB
View Bio