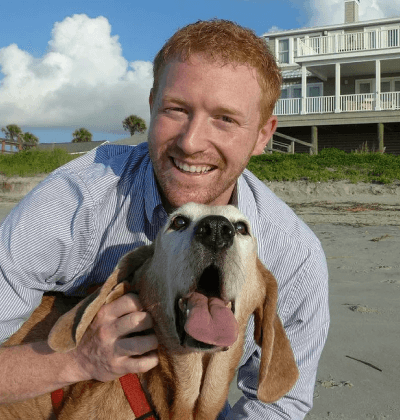 Dr. Davis was born and raised in mid-Missouri and graduated from the University of Missouri College of Veterinary Medicine in 2009. He stayed in Missouri for 2 years after graduation but knew his heart belonged in the South. In 2011, Dr. Davis moved to South Carolina and immediately knew he was going to be here forever. He spent 2011 through 2015  as an associate at Goose Creek Veterinary Clinic and in December 2015 joined the FAH family and has loved treating the amazing pets of Summerville.
Dr. Davis' interests include advanced dentistry, surgery, geriatric wellness, oncology, and personalized medicine. He believes that no two patients are the same and that good medical care is individualized, not protocolized. Dr. Davis is also proud to be a registered veterinarian for the Canine Lifetime Health Project.
Besides being a veterinarian, Dr. Davis also proudly serves in the United States Air National Guard as public health officer for the state of Missouri.
Dr. Davis resides in Charleston with his wife, Kerry, their daughter Moorea ("Mo") and their (very rotten) beagle, Bernard. In their free time, they enjoy trying new cuisine, traveling, and doing home improvement projects.